Iron Maiden & Onkyo Launch ED-PH0N3S
IRON MAIDEN and the award-winning Japanese electronics company ONKYO Corporation are delighted to announce the launch of their unique on-ear headphones available from December 4th.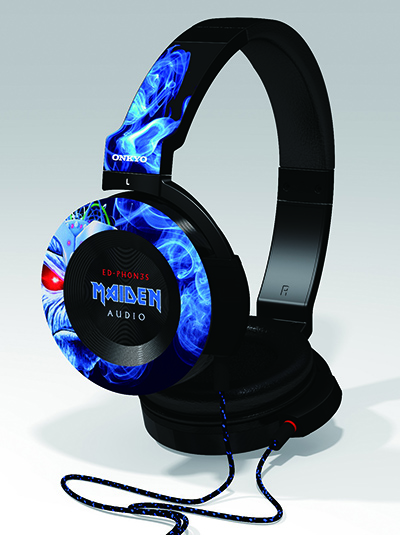 The ED-PH0N3S have been specially designed to provide fans of IRON MAIDEN, rock and heavy metal the ultimate way to hear their music, with the clarity and full acoustic range required by  Maiden bassist, founder member and co-producer Steve Harris.
ED-PH0N3S will be available exclusively through quality audio retail chain Richer Sounds in the UK, and on-line across Europe from MaidenAudio.com on December 4th
The official Japanese launch event is taking place at the Astro Hall in Harajuku, Tokyo on December 8th, with availability in many other countries worldwide to follow in 2016. The companion Maiden Audio smartphone App will be available for download in the Apple Store and Google Play Store from December 4th. This app is available for both iOS and Android and includes exclusive IRON MAIDEN custom EQ settings.
The Maiden Audio partnership was announced at the Consumer Electronics Show in Las Vegas in January. Over the following months, Steve Harris worked directly with Mark Cheffins, Artist Relations & Technical Consultant at ONKYO and their Japanese engineers. The resulting ED-PH0N3S are customised to Steve's exacting sonic requirements delivering the ultimate audio experience when listening to IRON MAIDEN or any rock and metal music.
Steve explains how the alliance came about,
"I knew that I would need some really good headphones to use for playback of the mixes of 'The Book Of Souls', our new Maiden studio album. I'd actually started looking into this about eighteen months prior to when we started recording because I'd been struggling to find a design which came even remotely close to what I felt was an acceptable sonic standard for rock/metal. My main objective was for a balance that wasn't just top and bottom heavy with hardly any mid range like a lot of headphones these days that are basically designed for dance music. I wanted a good balance across the widest bandwidth incorporating a lot more mid range frequencies, something I strongly feel is vital to appreciate the complexities of our music and rock/metal in general. A friend at ONKYO suggested I get in touch with the company to create a design that could meet my specifications. We started collaborating and have been working on them ever since, endlessly evaluating frequencies and modifying drive units, materials, cables and connectors until we achieved my ideal balance. I am now really happy with the final result!"
Mark Cheffins continues,
"We were convinced ONKYO could help Steve achieve the musical authenticity he wanted and were thrilled when he agreed to collaborate with us. It was a challenging undertaking, given Steve's famously keen ear and 'no compromise' approach, but we were determined to deliver headphones that would be equal to the high standards Iron Maiden sets for its very distinctive sound. Although there are plenty of other brands marketing artist-endorsed headphones to consumers, to the best of my knowledge this is the first time the whole audio spectrum, including the all-important mid range, has been engineered to such a rigorous degree, so Iron Maiden fans can be assured the ED-PH0N3S are completely unique. These headphones have been crafted from the ground up so that Maiden fans and devotees of rock and metal music can experience the same crystal-clear sound the band prizes, right across the spectrum. With the level of detail and workmanship that's gone into this project throughout the past year or so, I'm confident we've succeeded in creating a £400 plus product which can sell for considerably less."

The suggested retail price for the ED-PH0N3S is £199/€299.